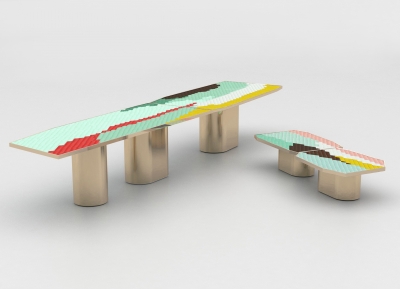 Mahdavi
Designer: India
Date: 2013
Materials: Hand painted Iznik quartz tiles and metal structure
Dimensions: 250 x 100 x 72 cm, 200 x 100 x 72 cm, 96 x 70 x 37 cm, 96 x 70 x 37 cm
Courtesy of Carwan Gallery
Carwan Gallery/ presenting India Mahdavi
Carwan Gallery is proud to introduce a new collaboration featuring architect and designer India Mahdavi. The result of a journey across Beirut, Istanbul and Paris. Landscapes is a collection of limited-edition tables, each crafted by hand and suitable for indoor and outdoor use. Commissioned by Carwan Gallery, this project has been produced by the Iznik Foundation in Bursa, Turkey. The starting point for the collection was the use of Ottoman-style quartz tiles and the exploration of a new approach in the construction of a monumental table that surprises the senses with its reflections and heady colors. The ateliers of the Iznik Foundation, famous for their development of tiles using the heritage of old Ottoman tradition, offered the perfect savoir-faire. The material used for the bisque is composed of 85% pure quartz powder, producing the reflective shine of the product.
India Mahdavi, the Paris-based architect and designer, created her studio in 1999. This globe-trotting designer spent her childhood in eleven different countries and her eclectic, colorful interiors reflect her myriad influences and inspirations. She is known for the diversity of her international projects which explore the fields of architecture and scenography, interior, furniture and objects. India Mahdavi's creations are immediately recognizable by the subtle association of sensuality and elegance, a perfect balance between masculine and feminine.
Founded by the architects Pascale Wakim and Nicolas Bellavance-Lecompte in 2010, Carwan began as the first pop-up gallery in the Middle East. Established in Beirut, the gallery exhibits limited-edition pieces throughout the world, with a focus on internationalizing design of the Middle East. Carwan features the work of international cutting-edge designers. Carwan Gallery also provides creative and design-centered consultancy to collectors, architects and interior designers in order to find exclusive contemporary solutions.
Gallery Address
PO BOX 17 5035, Mar Mikhael
Beirut , 5545
LB
www.carwangallery.com
Contact Info
Nicolas Bellavance-Lecompte (Director and co-founder)
Email: info@carwangallery.com
Tel: +393297322137