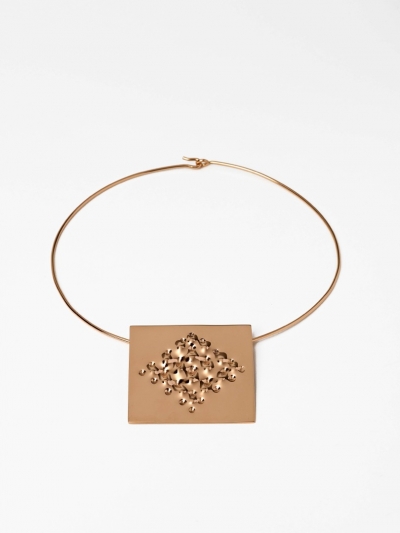 Superficie
Designer/ Enrico Castellani
Date/ 2012
Materials/ 18 kt red gold
Dimensions/ 6.2 cm x 6.2 cm
Courtesy of Elisabetta Cipriani - Jewellery by Contemporary Artists
Elisabetta Cipriani/ presenting Enrico Castellani
Elisabetta Cipriani – Jewelry by Contemporary Artists is an invite to the most innovative and challenging living international sculptors and painters to create wearable sculptures with the use of precious metals and stones. It is the first time that these artists have approached jewelry establishing parallels with their artistic disciplines and poetics.
The design of each project starts from a sketch created by the artist, while specialized goldsmiths based in Europe or the artists themselves take care of the production. The final result is a portable small sculpture, revealing the most intimate level of the artist; this is art in jewelry. The jewels created are unique or in a limited edition of twelve and are always addressed to art lovers but also to people who desire to wear something unique.
As part of the Design On/Site program, Elisabetta Cipriani will present Superficie, a bracelet and a necklace designed by Enrico Castellani and realized with the same ingenious technique and tools applied ten years ago to create his works on paper. The geometrical patterns created in these jewels alternate positive and negative space and establish a strong interplay between light and shadow. Superficie are made in 18kt white as well as rose gold and each piece is an edition of twelve, signed and numbered. On the occasion of the fair, a yellow-gold satin version will be presented for the first time.
Since 2009 the gallery has collaborated with Atelier van Lieshout, Carlos Cruz-Diez, Enrico Castellani, Giorgio Vigna, Giuseppe Penone, Ilya & Emilia Kabakov, Jannis Kounellis, Kendell Geers, Massimiliano Fuksas & Mimmo Paladino, Rebecca Horn, Tatsuo Miyajima, Tom Sachs and Wim Delvoye.
A selection of the gallery projects is included in worldwide museum collections and exhibitions.
Gallery Address
At Sprovieri, 23 Heddon Street
London , W1B 4BQ
GB
www.elisabettacipriani.com
Contact Info
Elisabetta Cipriani
Email: elisabetta@elisabettacipriani.com
Tel: 00447981646790