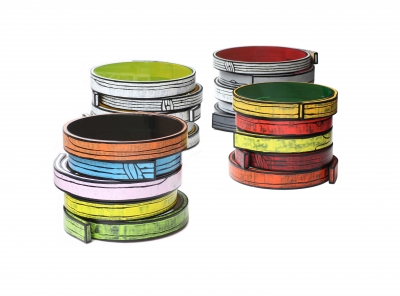 Bent Wood Tables
Designer/ Richard Woods
Date/ 2012
Materials/ wood paint colored glass

Galerie VIVID/ presenting Richard Woods & Sebastian Wrong
Galerie VIVID, founded by Saskia Copper and Aad Krol in 1999, was among the first to show contemporary design in the context of both art and design. The gallery's solo exhibitions have presented important designers such as Ettore Sottsass, Gerrit Rietveld, Hella Jongerius, Studio Job and Atelier Van Lieshout.
For Design Miami/ Basel 2013 Galerie VIVID is proud to present two important series of work by Richard Woods & Sebastian Wrong: the Logo Chairs and the Bent Wood Tables. The new Logo Chairs are simple in form, clear, like a child would draw a chair and use the well-known woodblock printed patterns of Richard Woods. The chairs are functional pieces of furniture, but also a statement about how art, design and craft come together.
The Bent Wood Tables consist of rings that were made in Udine, a city in northern Italy, where generations of skilled craftsmen still use the crude and basic processes of timber manipulation using steam and compression, forcing the solid birch wood to curl, making a very unnatural 'animated' form.
Woods & Wrong use these curled wooden planks, usually never seen outside the workshop environment, in their pre-machined state to remain as they are and serve as raw structures for stacking and printing together with the colored glass, forming an unique object.
Gallery Address
Red Apple Building, Scheepmakershaven 17
Rotterdam , 3011VA
NL
www.galerievivid.com
Contact Info
Saskia Copper (director)
Email: info@galerievivid.com
Tel: 0031681615516