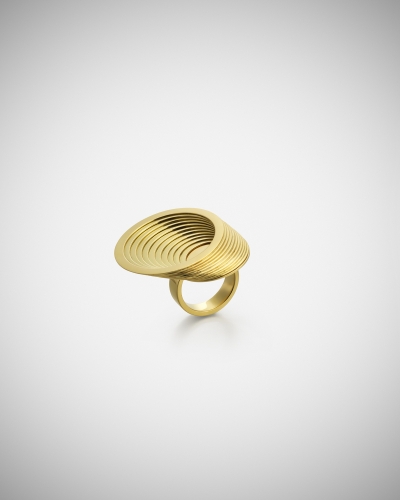 Atlas Ring, (Circle)
Designer/ Anish Kapoor
Date/ 2012
Materials/ 18ct gold
Dimensions/ 4.3 cm x 3.5 cm x 0.7 cm
Courtesy of Louisa Guinness Gallery
Louisa Guinness Gallery/ presenting Anish Kapoor
Louisa Guinness Gallery is unique and strict in its focus on jewelry made by artists.
Now the leading gallery in its field, it opened in 2003 with Past and Present: Jewelry by Twentieth Century Artists, an exhibition which included works by Alexander Calder, Man Ray and Nikki de Saint Phalle. While curating this exhibition, Louisa Guinness noticed that few contemporary artists were making jewelry. She proposed the idea to Anish Kapoor, Sam Taylor-Wood, Gavin Turk and Antony Gormley, challenging these artists to express themselves in a new medium. The resulting pieces are impressive and innovative additions to each artist's corpus. Since then the gallery has collaborated with sixteen contemporary artists including Conrad Shawcross, Gary Hume, Gavin Turk, Yinka Shonibare, Not Vital and Tim Noble and Sue Webster to create jewels. At the same time it has built an impressive collection of historic jewelry by the modern masters including pieces by Max Ernst, Pablo Picasso, Meret Oppenheim, Pol Bury and Lucio Fontana.
Louisa Guinness Gallery works only to the highest standard; all works are made by hand, mostly in London's famous Hatton Garden, or in the artist's studio. Each piece is signed and numbered and has an important place in the history of the particular artist's work.
Gallery Address
Louisa Guinness Gallery, c/o Ben Brown Fine Arts, 21 Cork Street
London , W1S 3LZ
GB
www.louisaguinnessgallery.com
Contact Info
Louisa Guinness (Managing Director)
Email: louisa@louisaguinnessgallery.com
Tel: 07712674322