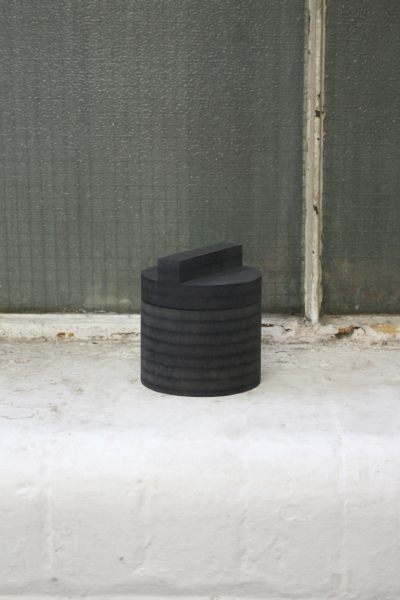 Functional Shapes, (Box)
Designer/ Philippe Malouin
Date/ 2013
Materials/ Mdf
Dimensions/ 12 cm x 11 cm x 8 cm
Courtesy of ProjectB Gallery
ProjectB/ presenting Philippe Malouin
ProjectB – a gallery established by Emanuele Bonomi, based in Milan and dedicated to contemporary art – opens up to design with the first solo show in Italy dedicated to Canadian designer Philippe Malouin.
In the exhibition, curated by Maria Cristina Didero, Philippe Malouin presents two new series of objects in limited edition: Slat pieces include a table, bench, bookshelf; and Type Cast Chairs are a series of sand-casted chairs. A third collection in black MDF sheeting cut and laminated called Functional Shapes will be also shown in Basel.
Malouin's objects and furniture rely on their permanence and durability as his research is based on the power of materials. For Functional Shapes, black MDF sheeting is cut and laminated and the resulting material is turned into a shape. The MDF is then extensively hand-polished, transforming this extremely rudimentary material into something new, light and highly tactile. The simple geometric shapes are dictated by their function revealing a lamp, bookends and nestling boxes, presented for the first time in a pitch-black finishing. The same color is to be found in the Type Cast Chairs, a series of sand-casted sitting tools in aluminum as a single component. The chair is extremely thin with no mechanical fixings and is surprisingly resistant. The sand leaves its mark on each chair, transmitting something of its own history and making each one of them slightly different than the other.
In Philippe Malouin's Slat pieces, standard timber slats are translated and repeated, forming a linear pattern, revealing a tabletop, rotated around an axis, forming a base and reflected for support. The resulting table gives the impression of a building, columns and ceiling. The same simple process is applied to benches that can repurposed to become a bookshelf.
Gallery Address
Via Maroncelli, 7, ""
Milan Italy, 20154
IT
www.projectb.eu
Contact Info
Carlotta Loverini Botta (Head of Comunications)
Email: carlotta@projectb.eu